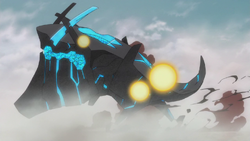 Klaxosaur
(
叫竜
,
Kyoryuu
) is a species in
DARLING in the FRANXX
.
Overview
Klaxosaurs often appear as dragon-shaped or dinosaur-shaped machines. Each Klaxosaur seen to date has armor of a black coloration and glowing blue highlights. They exhibit an instinctual attraction to magma energy, which they presumably feed on. Klaxosaurs seem to be capable of mating, or otherwise merging with humans, as Zero Two is stated to have Klaxosaur blood. The method in which this occurs is yet to be seen. It is revealed in Episode 15 that the core of a Klaxosaur contains what resembles to be a human in a fetal position.
Classes
Klaxosaurs are categorized by class by their size. Each class is named after the Conrad discontinuity.
Conrad-class (コンラッド級): small Klaxosaurs. Even smaller than a FRANXX. Presents not much of a threat. They rely on strength in numbers and can merge to create a bigger Klaxosaur.
Mohorovic-class (モホロビチッチ級): Medium-sized. Can pose a serious threat to the plantations if left unattended but otherwise harmless.
Gutenberg-class (グーテンベルク級): Large, intimidating and demoralizing to look at. They're siege weapons capable of destroying plantations. Requires a joint operation to defeat.
Super Lehmann-class: Gigantic Klaxosaurs the size of a plantation. They are to plantations what scissors are to paper and can withstand an entire plantation exploding in their face. Requires an army and a massive amount of effort to defeat.
Etymology
Kyoryuu uses the kanji for scream and dragon.
Klaxosaur is a portmanteau of klaxon, a loud electric horn, and the suffix -saur, which is used to describe lizards, particularly ancient ones such as dinosaurs.
Gallery
References