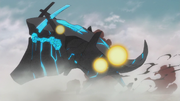 Klaxosaur
(
叫竜
,
Kyoryuu
) is a species in
DARLING in the FRANXX
.
Etymology
Kyoryuu uses the kanji for scream and dragon.
Overview
Klaxosaurs often appear as dragon-shaped or dinosaur-shaped machines. Each Klaxosaur seen to date has armour of a black coloration and glowing blue highlights. They exhibit an instinctual attraction to magma energy, which they presumably feed on. Klaxosaurs seem to be capable of mating, or otherwise merging with humans, as Zero Two is stated to be half-Klaxosaur. The method in which this occurs is yet to be seen.
Classes
Klaxosaurs are catergorized by class, presumably by their size and/or power.
Mohorovic-class
Gutemburg-class
References