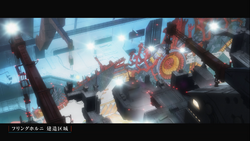 Hringhorni is a location in DARLING in the FRANXX. It is an important construction project closely supervised by Papa and the Sages.
In episode 20 Dr. Franxx describes it as "A massive spear built using klaxosaur cores".
Etymology
In Norse mythology, Hringhorni is the name of the ship of the god Baldr[1].
Gallery
Trivia
References