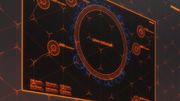 The Gran Crevasse (グランクレバス, Gurankurebasu) is a location in DARLING in the FRANXX.
Taking over Gran Crevasse is Papa's long standing wish, though the reason why is unclear. The place has a large amount of magma energy, therefore attracting large amounts of Klaxosaurs, large enough to reduce Plantations to shambles.
Gran Crevasse is a sturdy fortress, surrounded by walls and mountains and seas of Klaxosaur. A super Lehman class Klaxosaur used to hide here until Strelitzia neutralized it. However, the battle for this region is long from over as a giant hand appeared from the abyss and smashed Plantation 13.
Gallery
References