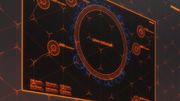 The Gran Crevasse (グランクレバス, Gurankurebasu) is a location in DARLING in the FRANXX
History
Gran Crevasse is a sturdy fortress, surrounded by walls and mountains and seas of Klaxosaurs. Conrad, Moho, and Gutenberg klaxosaurs were visually seen to have occupied the area. Because the area has a large amount of magma energy, it attracts a horde of klaxosaurs and makes it a suicide mission for a FRANXX unit to approach it.
Obtaining control of Gran Crevasse has been Papa's long-term dream because Gran Crevasse possesses a powerful klaxosaur weapon called Hringhorni (referred to as Star Entity by APE) that APE intended to obtain it and have Zero Two operate it on their behalf to eliminate the klaxosaurs. In the manga, Gran Crevasse is revealed to be the fortified structure, referred to as a castle by Papa, of 001.
In Episode 15, parasites from Plantations 13 and 26, along with the 9's, are sent to neutralize the klaxosaurs and seize Gran Crevasse. The battle resulted in multiple plantations being destroyed by both the klaxosaurs and Protocol 36 (the APE standard procedure to self-destruct), and the loss of 60% of parasites. A super-Lehman class Klaxosaur is revealed to have been hiding within the area until Strelizia neutralized it. However, the battle for this region abruptly ended when giant colossal klaxosaur hand appeared from the abyss and smashed Plantation 13 into ruins.
After declaring victory over Gran Crevasse, APE seized control over Hringhorni and made amplications it. Preparing for the worst case serenio should 001 take control over Hringhorni, APE constructed a self-destruct bomb powerful enough to destroy the entire planet. All the surviving parasites were sent back to Gran Crevasse to prevent any setbacks before Zero Two can operate Hringhorni. However 001 managed to sneak into the area and attempted to seize control of it by forcing Hiro to link with her. Anticipating 001 would interfere, APE set the bomb to start a detonation countdown upon her making contact with Hringhorni. APE also released an armada of VIRM fleets to kill the klaxosaurs and parasites. Howeve, the parasites were able to stop this from happening when Hiro and Zero Two reconnected, stopping the detonation, and forced VIRM to temporarily retreat.
After the attle ended, Gran Crevasse was left in complete ruins.
Gallery
References