"From the earliest we could remember, we "children" were called by a series of numbers and raised in the Garden."—Hiro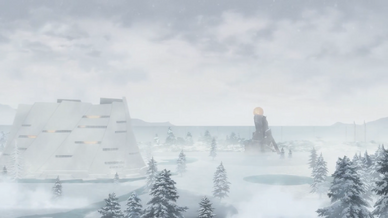 The Garden (育成所, Gāden) is a location in DARLING in the FRANXX. It is a facility used for the development of parasites.
This is a place where Hiro rose to prominence with his high test results and naming of the Children.
This is also the place where inhuman experiments were carried out on Zero Two.
In Episode 03, when the group is talking about Hiro and his chances of becoming a Parasite, Ikuno comments about a Parasite being unable to pilot and how little chance there is that Papa would be willing to accept it, and Futoshi states that they saw many kids from the Garden disappear because of that, with Kokoro replying that it was so sad.
In Episode 12, [...] commented that [...] has never seen any Parasite return to the Garden.
Nursery 3: Laboratory
The Lab (第3ナースリィ・ラボラトリー, ) is the research hub that towers over the Garden.
Gallery
References