FRANXX (FRANXX, Furankusu) are robot weapons created by Dr. FRANXX to combat Klaxosaurs, usually piloted by children in boy-girl pairs. Those who can pilot FRANXX are called Parasites.
All FRANXX units are at the disposal of APE, the government body of this world.
The FRANXXs feature certain similarities to the flowers after which they were named.
FRANXX
The FRANXX used by Cerasus differ from typical FRANXX as they each have individual and unique designs befitting of their users. This is most likely because Plantation 13's Parasites are experiments. As shown in Episode 6, the other Plantations have identical FRANXX units, suiting their blank-slate personalities. The 9's have custom made FRANXX units.
Parasites
Parasites are those who pilot FRANXX. The female is known as the Pistil while the Stamen is the male. This is a direct reference to the male and female reproduction organs of flowers. Below are the names of the current Pistils and Stamen of Plantation 13.
Pistil
Stamen
Stampede Mode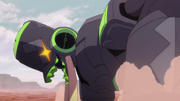 Stampede mode (スタンピード・モード,
Sutanpido Modo
) occurs when a pilot loses control of his or her FRANXX. When a FRANXX is controlled by only its Pistil, it takes on a more beast-like appearance. This will negatively affect their health if continued for long periods of time.
This phenomenon is first shown with Strelizia. After 081 dies, Zero Two is forced to pilot alone, transforming it into its beast mode. When Mitsuru refuses to fight and Kokoro tries to pilot Genista alone, the lip of Genista's hat opens, revealing sharp metal "teeth" and two orange crosses appear above, making an animal-like face.
Paracapacity
Paracapacity (コネクト値, Para Kyapashiti) is the numerical value indicating the degree of synchronization between FRANXX pilot and their FRANXX.
References