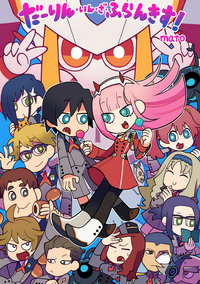 DARLING in the FRANXX!
(

だーりん・いん・ざ・ふらんきす!

,

Dārin In Za Furankisu!

)
is a
yonkoma
manga adaptation based on
the anime series
written by mato began serialization on
Shōnen Jump+
website and app since January 14, 2018, along with the
manga adaptation
. It feature chibi versions of the characters and retells the story in a
caricaturing
way.
List of Chapters
| # | Image | Date | Description |
| --- | --- | --- | --- |
| 1 | | January 14 | |
| 2 | | January 15 | |
| 3 | | January 16 | |
| 4 | | January 21 | |
| 5 | | January 22 | |
| 6 | | January 23 | |
| 7 | | January 28 | |
| 8 | | January 29 | |
| 9 | | January 30 | |
| 10 | | February 4 | |
| 11 | | February 5 | |
| 12 | | February 6 | |
| 13 | | February 11 | |
| 14 | | February 12 | |
| 15 | | February 13 | |
| 16 | | February 18 | |
| 17 | | February 19 | |
| 18 | | February 20 | |
| 19 | | February 25 | |
| 20 | | February 26 | |
| 21 | | February 27 | |
| 22 | | March 4 | |
| 23 | | March 5 | |
| 24 | | March 6 | |
| 25 | | March 11 | |
| 26 | | March 12 | |
| 27 | | March 13 | |
| 28 | | March 18 | |
| 29 | | March 19 | |
| 30 | | March 20 | |
| 31 | | March 25 | |
| 32 | | March 26 | |
| 33 | | March 27 | |
| 34 | | April 1 | |
| 35 | | April 2 | |
| 36 | | April 3 | |
| 37 | | April 8 | |
| 38 | | April 9 | |
| 39 | | April 10, 2018 | In reference to Hiro and Zero Two's past, he notices that she seems to be embarrassed of her horns. He goes to find icicles to find so that he can make them "match." |
| 40 | | April 15, 2018 | |
| 41 | | April 16, 2018 | |
| 42 | | April 17, 2018 | |
| 43 | | April 22, 2018 | |
| 44 | | April 23, 2018 | |
| 45 | | April 24, 2018 | In reference to Episode 15, a large hand raises from the ground and makes a rock sign. |
| 46 | | | |
| 47 | | | |
| 48 | | | |
| 49 | | | |
| 50 | | | |
| 51 | | | |
| 52 | | | |
| 53 | | 2018年05月21日 | |
| 54 | | 2018年05月22日 | Mitsuru and Kokoro panic before their wedding. |
| 55 | | 05月27日 | |
External Links
References