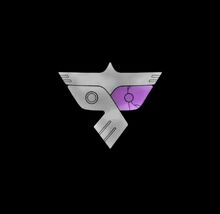 APE is group of scientists and politicians who govern all of known humanity. All civilian and military organizations report to them or someone under them, with the exception of the special forces pilots, also known as the "Nines," who report directly to APE. They worked with Dr. FRANXX in the creation of the FRANXX program.  APE is ruled by a Chairman, who is known as "Papa" by Children and adults alike and worshipped as a god. Members of APE wear elegant white robes and sport unique mechanical masks.
Members
Seven Sages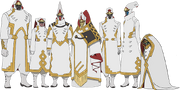 The
Seven Sages
(
七
賢
人
,
Shichi Kenjin
) or Lamarck Club (ラマルク・クラブ,
Ramaruku Kurabu
) are the highest members of mankind's governing institution "APE."
The seven adults who assemble at APE HQ. In opposition of the sudden activity of klaxosaur, they pay particular to the awakening of Strelizia and its pistil, Zero Two. They refer to Hiro as the "special specimen."[1].
Other Members
Goals
Publicly, APE is dedicated to the preservation and protection of humanity, who live in Plantations protected by squads of FRANXX units. Any ulterior motives are still unknown, save that they have a special interest in Zero Two.
Location
APE convenes in the APE Strategic Headquarters, which is a large, circular glass dome located in an unknown region somewhere within outer space. The facility is equipped with a number of displays and holographic projections to assist in any meeting. Members of APE do not physically meet up, and instead appear via a holographic projection, leaving their true location a mystery.
Trivia
Masks of APE members resemble certain species of primates as they are named after them. All are confirmed except Chairman and Vice-Chairman.
They desire to bring Zero Two to Grand Crevasse.
Gallery
External Links
References
↑

APE本部に集う7人のオトナたち。活動が活発になってきた叫竜に対抗するべく、覚醒したストレリチアとピスティル(女性操縦者)のゼロツーの動向に注目。ヒロのことを特殊検体と呼んでいるようだが……