090 is a character in DARLING in the FRANXX.
Appearance
Code:090 has straight and short brown hair with brown eyes. He dons the standard Stamen uniform.
In Episode 15, he has a white or gray colored hair instead.
Personality
Because of Zero Two's recklessness and brutality during a joint operation two years ago, Code:090 lost his original partner. He still holds a grudge against Zero Two for accidentally killing his partner.
He died shortly after Papa initiated "Protocol 32", ordering the self-destruction of Plantation 26 to secure a path into Gran Crevasse. The rest of Squad 26 most likely died with him.
History
Episode 05: Your Thorn, My Badge
A grand ceremony is conducted with the utmost solemnity. The children of Plantation 26's FRANXX squad were also in attendance, and they seemed a lot more calm and composed that Plantation 13's.
The mayor says that the klaxosaurs are sure to attack in great numbers, and the fate of the two plantations rests on their shoulders. He says they're strong and will bring them to victory.
At the FRANXX docking station, a stamen says that their designs are all unique. They didn't know that they were, and one explains that their FRANXX have similar bodies and equipment all around, making it easier for them to fight together. He says that he was told they were a hastily-assembled test team and asks if this was their first kiss. Goro says that it is. 090 smiles and says that they're more experienced, so if there's anything they don't know to ask.
Zorome becomes excited and says that he has a question. He asks if any of the children there had became adults.
090
doesn't understand, so a boy with a bandage says that he doesn't know.
090
says that they hadn't, saddening Zorome. He asks if they heard any rumors about it, and he says no.
090 says that their names are strange and asks if Code 016 was the one who came up with them. He says that he's famous among children. He says that they're strange and asks what the point of being unique is.
Klaxosaurs are detected and an hour later a meeting is held. Hachi explains that there are 100 to 150, and they're expected to arrive at 33 hours from then. He says that 13 will act as back up. Zorome and Miku become annoyed at the other unit as they speak down to them. When Hachi says that Strelizia will be placed closest to the pipe, the other team is horrified.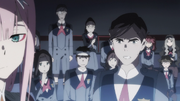 Nana comes in with
Zero Two
and
Hiro
.
090
says that they can't fight alongside
Strelizia
, since she doesn't care about her allies. She doesn't know what he's talking about. He says that they had a joint operation two years ago where his partner was killed under her fault. Zero Two coldly says that "weaklings die" and that it doesn't matter. He begins to walk closer to her, but
Hiro
steps between them and promises to keep her from going out of control.
Episode 06: DARLING in the FRANXX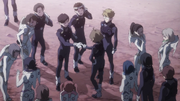 Relationships
Etymology
090 (pronounced "zero-kyuu-zero") is only referred to as his code. Because of his numbers in the double digits, he would have received special treatment from APE[1].
Appearances
DARLING in the FRANXX appearances
Episode 01
Episode 02
Episode 03
Episode 04
05
06
Episode 07
Episode 08
Episode 09
Episode 10
Episode 11
Episode 12
Episode 13
Episode 14
15
Episode 16
Episode 17
Episode 18
Episode 19
Episode 20
Episode 21
Episode 22
Episode 2
Episode 24
Gallery
Quotes
References